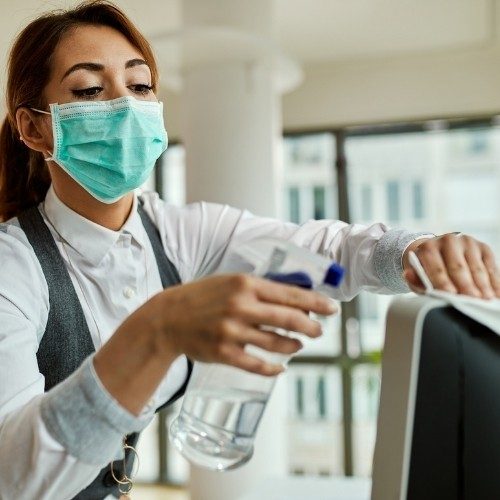 The Best Office Cleaning Services In Fort Thomas!
A clean office communicates many things about your business to your customers and your employees. Depending on your needs, we can clean your office on a daily, weekly, or monthly basis to keep your workspace (offices, restrooms, halls, break rooms, etc.) looking its best. If you are looking for a dependable cleaning company, our office cleaning technicians know how to make an office shine.
Our office cleaning services include disinfecting all surfaces that people touch to help keep your employees and customers safe and healthy.
All cleaning staff has been thoroughly vetted and background checked. We are also fully insured and bonded for your protection.
What's Included In Our Office Cleaning Service?
Clean/sanitize countertops
Clean/sanitize backsplash
Clean appliance exteriors
Clean microwave inside and outside
Wipe down cabinet fronts
Clean/sanitize faucets and sink area
Wipe down break tables
Everything included in All Rooms
Vacuum and mop floors
Clean/sanitize sink, faucets, and vanities
Clean/sanitize toilet and toilet area
Clean mirrors
Wipe cabinet fronts
Everything included in All Rooms
Remove cobwebs
Dust furniture, cabinets, desks
Sanitize high touch point areas
Dust window sills, lock ledges, and blinds
Dust wall art
Clean front entry door glass
Empty trash and reline trash cans
Polish conference room furniture
Vacuum floors
Mop hard surface floors
Wipe down doors and door frames
Wipe baseboards
Wipe down trim and molding around doors and windows
Wipe down banister and railing
Clean inside kitchen appliances (oven, refrigerator, dishwasher)
Are You Ready For a Spotless Office?
Request your free quote now and come home to "spotless" tomorrow!